Customer
The Customer is a premier tech company that delivers innovative solutions across the areas of data and AI, mobile, IoT, and cloud.
Challenge
Apart from reinforcing relationships with customers, the Customer relies on Dynamics 365 for project management tasks, such as reporting on project efforts and expenses. Yet, employee reporting and approval was not perfect:
Project managers had to manually search for and filter employees' records so as to approve their subordinates' time and create team reports.
Top managers didn't have a consolidated view of project managers' reports.
There was no functionality for automatically submitting employees' expenses for managerial and financial approval.
To make project reporting and reviewing more efficient, the Customer was looking for a Dynamics 365 consulting partner that could extend the functionality of their CRM. A previous successful project with ScienceSoft spurred the Customer to turn to us once again.
Solution
ScienceSoft's team created and integrated two custom plugins into the Customer's CRM.
Time tracking plugin
The time tracking plugin comprises custom dashboards for two types of CRM users – project managers and top managers.
After employees log the time spent on projects in Dynamics 365, the time tracking dashboard gives project managers a holistic view of their team members' reports. Using the dashboard, project managers can view the data per project and per employee, as well as approve selected time items in just one click.
Pic 1. Managing approval of project time in Microsoft Dynamics 365.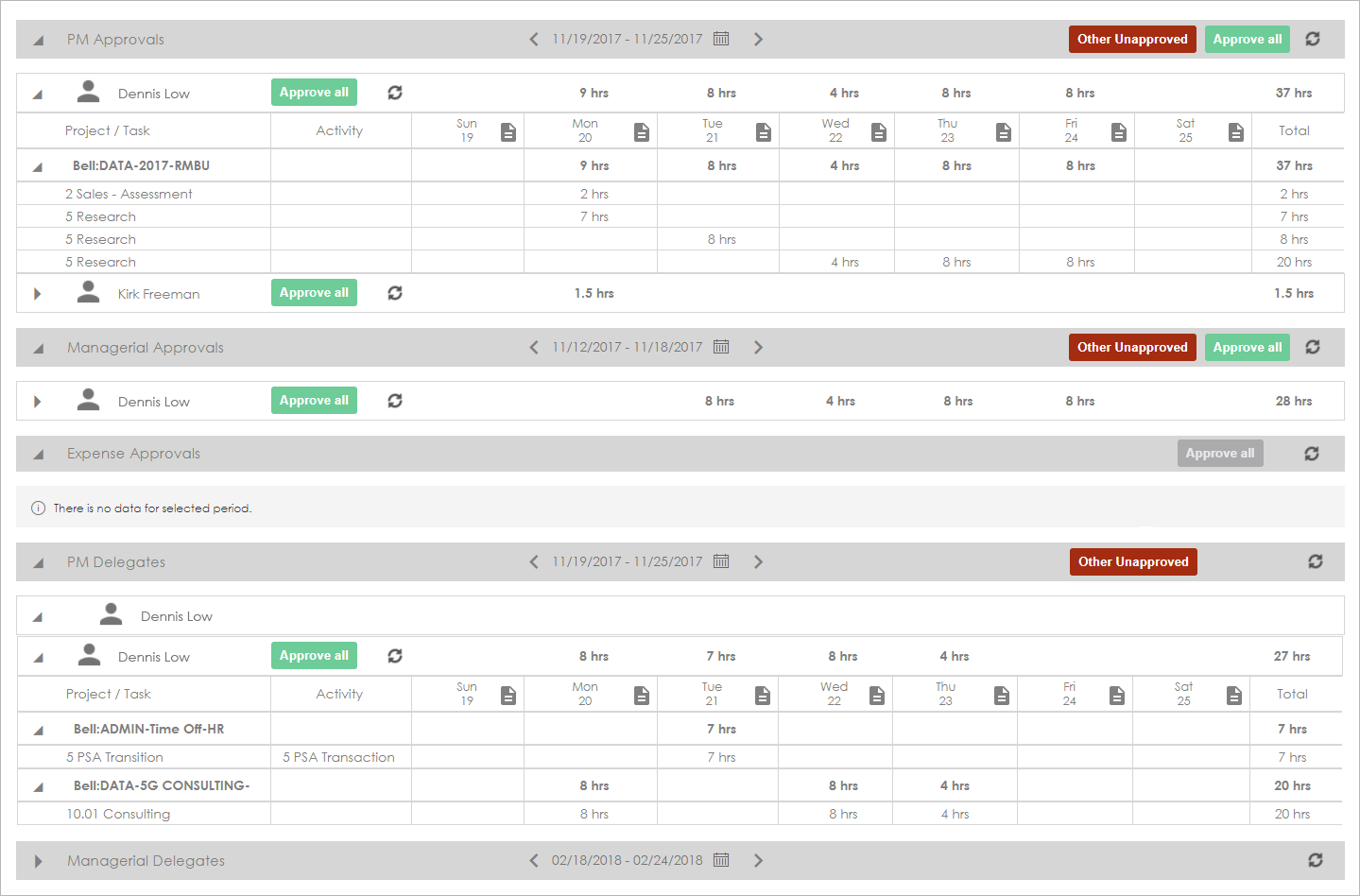 The time tracking dashboard for top managers aggregates data from project managers' records. This way, top managers can easily view daily and weekly reports and drill down to review every single project of a project manager. Approval of time records per project manager and per project takes the top manager just a single click. If the top manager rejects a logged task or project, they can jot down reasons in a popup screen.
To make sure no project falls off the radar, project managers and top managers get notifications on pending approvals. Users can easily configure notifications to get them in a convenient way − daily or on certain days, via Slack or Email.
Expense approval plugin
The expense approval plugin helps:
Employees to claim expense reimbursement.
Project managers to review employees' expense claims.
Financial team to approve the expenses verified by managers.
To request expense reimbursement, an employee creates an e-claim. The employee selects their saved expenses, adds new ones, and attaches receipt images. The plugin spots data inconsistencies and alerts the employee to empty fields, missing attachments or incomplete notes related to lost receipts. Once the employee submits an expense claim, any changes are locked for editing, and Dynamics 365 begins the approval process.
Using a Dynamics 365 custom dashboard, the project manager can view pending expense claims, as well as accept and reject claims in bulk and individually. If the project manager rejects a claim item, Dynamics 365 makes "Rejection Notes" mandatory and removes the claim item from the list. The approval workflow goes on smoothly: financial team proceeds with the manager approved claim items, and the employee gets a rejected claim item back to handle the remarks and submit a new expense claim.
The financial team uses the custom dashboard to review claims approved by managers, make edits, as well as accept or reject claims specifying the reasons. The expense approval is complete when the financial manager exports data using a pre-defined Excel template and marks the claim's status as "reimbursed".
For user convenience, both project managers and financial managers can view claim items and related attachments side-by-side. The images are easily zoomed to check details.
Also, the Dynamics 365 solution streamlines the approval process by automatically changing claim statuses, forwarding claims to relevant users, and notifying stakeholders when their actions are required and claim status changes.
Pic 2. Managing approval of expense reimbursement in Microsoft Dynamics 365.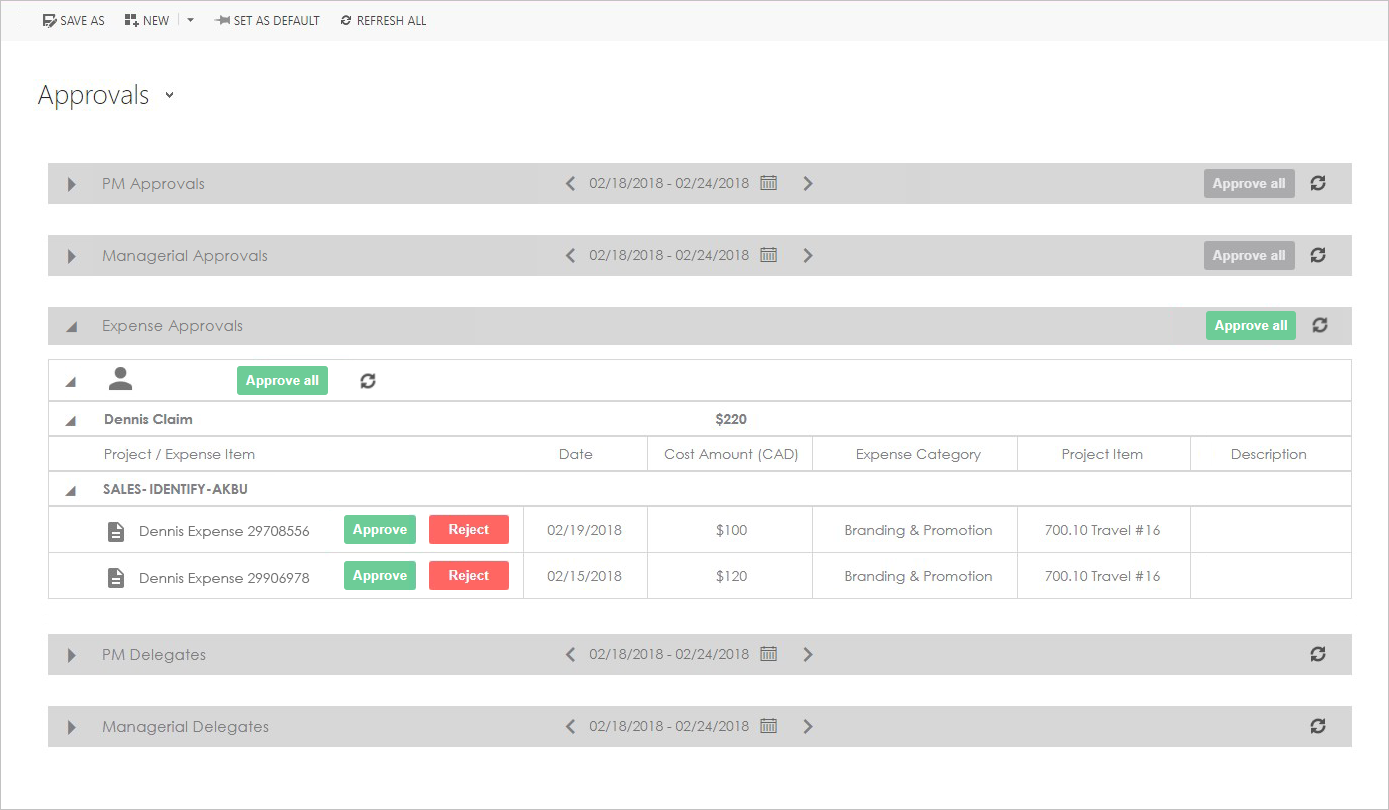 Results
In six weeks, ScienceSoft's team composed of an IT consultant, two developers, a BA, and a QA specialist delivered a Microsoft Dynamics 365 project management solution that comprised two plugins and custom UI components. The solution based on custom workflows and convenient approval dashboards helped the Customer to enhance processes related to project management and expense reimbursement.
Technologies and Tools
Dynamics 365 API, .NET C#, JavaScript (ReactJS).